Lenore Paprocky Joins Brookhaven IDA and LDC Board
07/02/21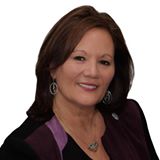 FARMINGVILLE, NY — Frederick C. Braun III, chairman of the Brookhaven Industrial Development Agency (IDA), announced that Lenore Paprocky, the Director of Business Development with Synergy Wealth Strategies, has been appointed to the IDA and Local Development Corporation's (LDC) board of directors.
At Synergy Wealth Strategies, Lenore works closely with the financial team to uncover innovative ways to build brand awareness and increase their potential client base. She has over 25 years in sales and marketing management experience, which has taught her the importance of business relationships.
"We welcome Lenore to our board and look forward to her business insights and contributions to the IDA as we move forward," Braun said.
Lenore is very active in the business community and is currently the President of the Greater Middle Country Chamber of Commerce and Business Chairperson for Smithtown Industry Advisory Board. Before becoming chamber president, she was recognized for her efforts by being awarded chamber Volunteer of the Year and Member of the Year, consecutively. As an influential business leader, she was named one of the Top 50 Most Influential Women in Business on Long Island, as well as being awarded LIBN Corporate Citizen of the Year. Lenore previously served as Vice President of The North Shore Promotion Alliance and was the Secretary of Suffolk County Alliance of Chambers in its' inaugural year, 2015.
Lenore is a native Long Islander and currently resides in Coram.
About the Town of Brookhaven Industrial Development Agency
Since 1971, the mission of the Town of Brookhaven Industrial Development Agency is to improve the quality of life for Brookhaven residents by promoting and assisting the growth of businesses that support the Town through capital investment and the creation and retention of jobs. The IDA has issued millions of dollars in tax-exempt or taxable bonds and provided assistance through straight lease deals to encourage companies to either locate or expand in the Town of Brookhaven. This assistance has been extended to companies both large and small, and has resulted in the direct creation of thousands of jobs for Brookhaven residents. The IDA has provided assistance to a wide range of companies, including Tate's Bake Shop, Amneal Pharmaceuticals, Precision International, LI Precast, Uncle Wally's, and Framerica. For more information, visit BrookhavenIDA.org or call 631-451-6563.