11-16-21 Ronkonkoma Hub Eminent Domain Public Hearing Public Hearing Notice
11/01/21
Transcript of Public Hearing
Public Hearing Minutes
Brief Synopsis of IDA's Determination & Findings
Resolution

PLEASE TAKE NOTICE that in accordance with Article 2, Section 202 of the New York State Eminent Domain Procedure Law ("EDPL"), notice is hereby given of a public hearing to be held on Tuesday, November 16, 2021 at 4:00pm, before the Town of Brookhaven Industrial Development Agency (the "Agency"), via electronic means as set forth below, to consider the acquisition of real property by eminent domain in stages pursuant to Eminent Domain Procedure Law Article 4, of 34 parcels of real property consisting of approximately 18 acres, proximate to the Ronkonkoma Station of the Long Island Railroad Ronkonkoma Branch, for the public purpose of redeveloping and revitalizing the area surrounding the Ronkonkoma Station.
The objective of this meeting is to consider the purpose, proposed location, impact on the environment and other pertinent information concerning the potential acquisition.
The 34 parcels being considered for acquisition are located in Ronkonkoma, New York and are more particularly described as: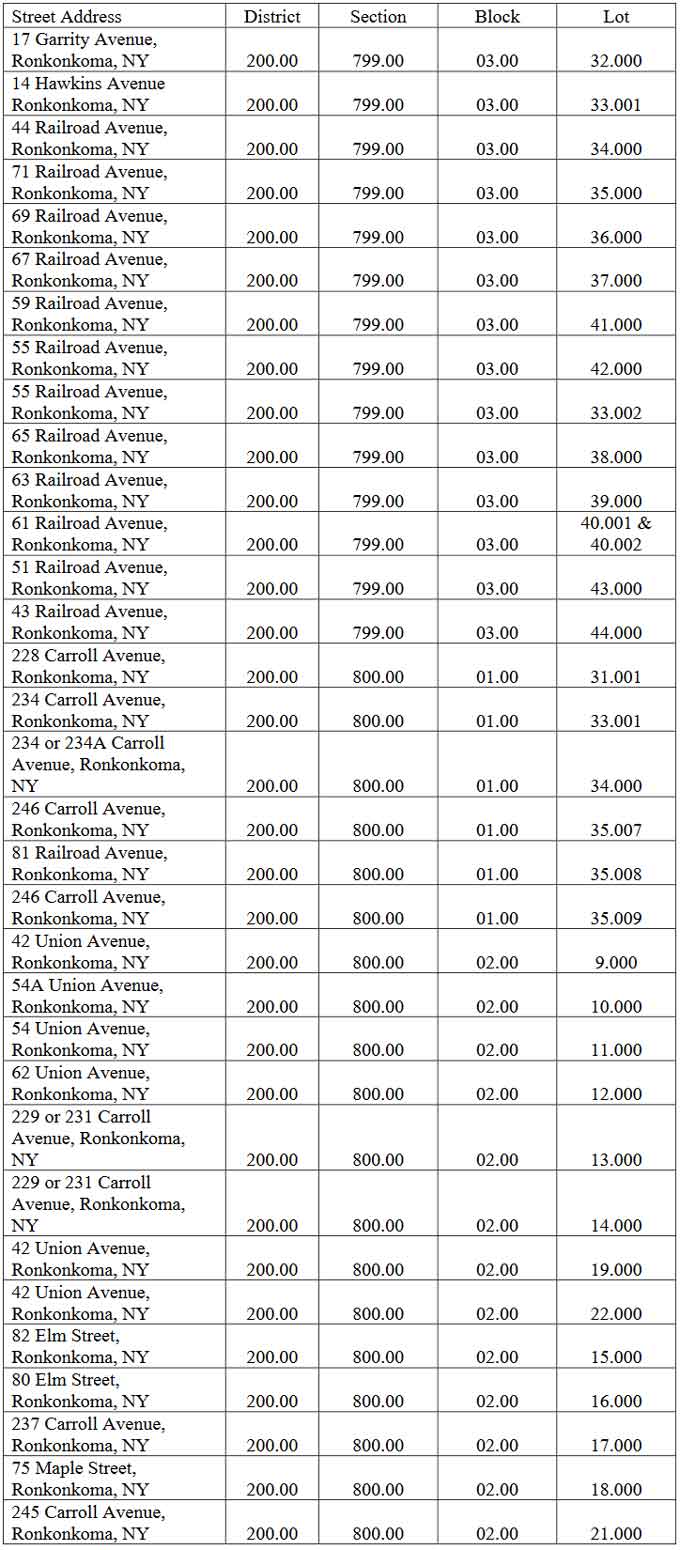 Due to the ongoing public health crisis caused by the Novel Coronavirus (COVID-19) and pursuant to Chapter 417 of the laws of 2021 (S.50001/A.40001), effective September 2, 2021 through January 15, 2022, permitting local governments to hold public hearings by telephone and video conference and/or similar device, the Public Hearing scheduled for November 16, 2021, at 4:00pm, local time, being held by the Agency, in accordance with the provisions of Article 18-A of the New York General Municipal Law, will be held electronically via video conference call instead of in-person for the public to physically attend. Members of the public may watch, listen to and participate in the Public Hearing by making oral comments and/or by submitting written comments concerning the matters presented at the Public Hearing, as set forth below.
INSTRUCTIONS TO ACCESS THE VIRTUAL MEETING: On your computer, tablet or smartphone, you can register, log in and see the video and hear the audio of the Public Hearing live via Zoom. You can access the Zoom meeting at https://bit.ly/brookhaven-ida-r-hub (note: all lowercase if typing in); or at https://zoom.us/join and entering Webinar ID: 843 1712 6270 and Passcode: 741056. You can also call in to the Zoom meeting via telephone by calling 1-646-558-8656, and entering the webinar ID: 843 1712 6270 and the passcode: 741056. Questions about accessing the Zoom videoconference should be emailed to abelniak@vhb.com.
Written comments may also be submitted to the Agency before, during and within 30 days after the Public Hearing by emailing them to jlinse@brookhavenny.gov.
Those property owners who may subsequently wish to challenge condemnation of their property via judicial review may do so only on the basis of issues, facts, and objections raised at the Public Hearing.
Minutes of the Public Hearing will be transcribed and posted on the Agency's website.